-2014-05-07-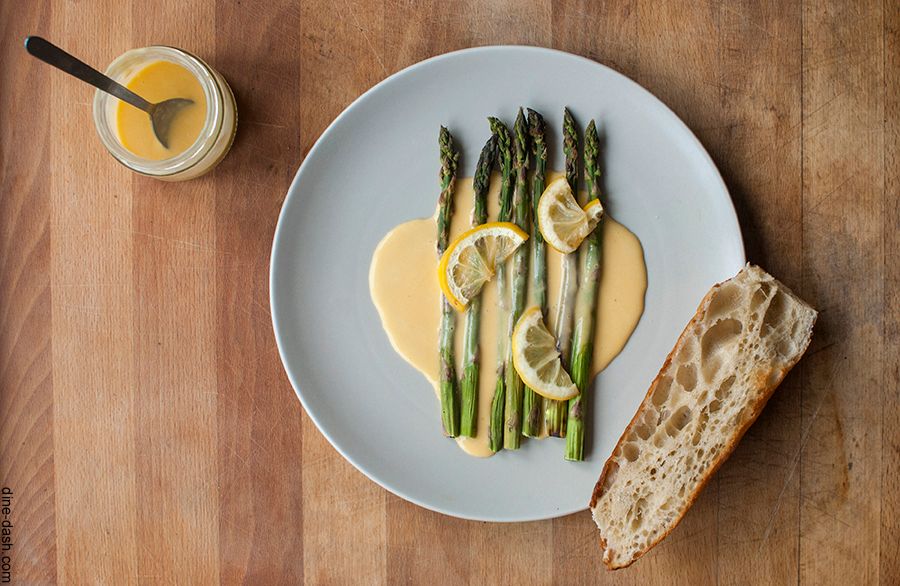 For me, the asparagus season is one of the most most beautiful, but also the most stressful times of the year. Between mid-April and the end of June, when asparagus is in season in Poland, a day without at least one asparagus meal is a day wasted.
I'm not sure if I would admire asparagus as ardently if it was easily available all year round.
I appreciate its subtle taste and delightful firmness, but it is the fact that it is here today and gone tomorrow that makes me madly in love.
Recipe: Roasted asparagus with Hollandaise sauce
Serves: 2
Roasted asparagus
a bunch of green asparagus
juice of 1/2 lemon
a few thin lemon slices
one tsp. of olive oil
Break off the tough ends of asparagus.
Place them in an oiled baking dish, drizzle with lemon juice, top with lemon slices.
Roast at 180 C for about 15 minutes.
Hollandaise sauce
4 egg yolks
100 g of butter
juice of one lemon
a pinch of salt and white pepper
Beat the yolks with lemon juice, salt and pepper.
Melt butter in a skillet and gradually add to beaten yolks, mixing continuously.
Transfer roasted asparagus to plates and top with sauce..